Dentures and Partial Dentures
A denture is a device made of synthetic materials in order to replace missing teeth. Dentures are generally made for those who have lost all their teeth, but that's not always the case.
Since proper fit is essential, a denture is modeled after one's own teeth to ensure a proper fit. The fit of dentures is extremely important as it will affect both your speech and your ability to chew if dentures don't fit properly.
Dr. Rice does much more than just provide dentures. He will work with you to find the right, custom solution that is comfortable, functional, and aesthetically pleasing. While dentures often are associated with discomfort, slipping, and restrictive, Dr. Rice can provide you with implant supported dentures that eliminate these problems. With the All on 4™ procedure, you could have a beautiful new set of implant supported dentures in just one day!
Denture Types
For those who are missing all of their upper and/or lower teeth, a full denture can replace the entire arch. Dentures can also replace multiple missing teeth when other teeth remain in the arch. There are two common types of partial dentures available; fixed partial dentures and removable partial dentures.
Removable Partial Dentures
Removable partial dentures are generally given to those who are missing only some of their teeth in a particular section of their mouth. They got their name due to the fact that one may put the partial denture in their mouths and take them out by themselves.
Removable partial dentures are made with a metal framework that has attachments so the dentures secure properly in the mouth. This holds the removable partial dentures in place but still allows an individual to take out the denture for cleaning. Removable partial dentures are utilized by individuals for a number of reasons. Some of these reasons include: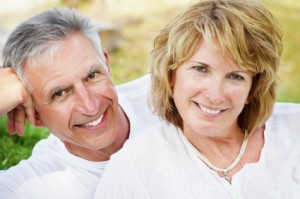 patients who are not candidates for fixed partial dentures
gum condition
financial consideration
and more.
Fixed Partial Dentures
Fixed partial dentures, also referred to as dental bridges, permanently replace one or more teeth by placing dental crowns on teeth on either side of missing teeth. After this, an artificial tooth (or teeth) is attached to them. The fixed dentures are secured into place by using a cementing compound. This ensures the artificial teeth will stay in place.
The fixed dentures have many advantages. Since they are actually fixed to your remaining teeth the integrity of your current teeth is never compromised. The fixed dentures insure that your remaining teeth will not shift or move. Although fixed dentures are a little more expensive than removable partial dentures, the results are generally phenomenal.
Implant Supported Dentures
Typical full and partial removable dentures are placed on the gums with adhesives. Because of this, they can slip and cause discomfort from rubbing the gums. In addition, there are no teeth roots to continually stimulate the jawbone causing it to recede.
Dr. Rice provides his patients in the Elgin and St Charles area a few options with implant supported dentures that provide comfort, stability, and bone stimulation.
Overdentures on Mini Implants: Mini dental implants can be strategically placed in the jawbone to become anchors to overdentures. The jawbone then remains an active part of the teeth which slows the resorption process. These dental implant supported dentures are removable so they can be easily cleaned and maintained.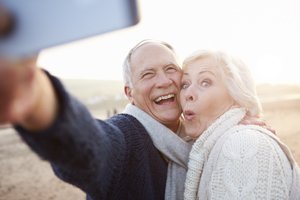 All on 4™: One of the most exciting developments with full mouth teeth replacement is the advent of the All on 4 process. By placing four dental implants at different angles in the jawbone, your dentures can be permanently attached and then function and, with the cosmetic skills of Dr. Rice, even look like natural teeth! All of this can be done in just one day. So you can walk into our Elgin office in the morning and walk out that same day with a full set of beautiful teeth. Ask us today about All on 4 and you can enjoy new teeth in as little as one day.
SynCone® Removable Implant Supported Overdentures: Similar to All on 4, the ANKYLOS® SynCone® overdenture system uses four dental implants to secure overdentures. These implants are uniquely designed to give SynCone a huge advantage over All on 4 – the overdenture is removable! This allows you to have a denture that feels so stable you will think it is screwed in to the jawbone, yet is removable to be able to clean and maintain it easily. SynCone is not only Dr. Rice's preferred method to replace multiple teeth for his patients in the Elgin – St. Charles area, it is also your best value for the money.
Contact our Elgin and Bartlett IL area office today for a consultation and to see if dentures would be right for you. We will take the time to go through all of your options with you, whether it be dentures or dental implants. At David Rice, DDS we truly care about you and your needs and of course your smile. Your perfect smile is only a phone call away in the Elgin, South Elgin, Gilberts, St. Charles, Hampshire and Huntley areas of Illinois.