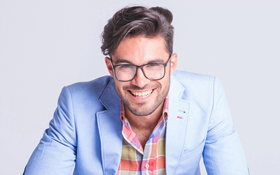 If you have missing teeth, it changes your daily life—you aren't able to enjoy the activities or many of the foods that you once did. Our practice offers procedures for everyone to be able to enjoy a new smile and stay healthy.
A denture is a device made of synthetic materials in order to replace missing teeth. Dentures are generally made for those who have lost all their teeth, but that's not always the case.
Every mouth is unique and so are our services. Each denture is modeled after one's own teeth to ensure a proper fit. The fit of dentures is extremely important as it will affect both your speech and your ability to chew if dentures don't fit properly.
Dr. Rice does much more than just provide dentures. He will work with you to find the right, custom solution that is comfortable, functional, and aesthetically pleasing. While dentures often are associated with discomfort, slipping, and restrictions, Dr. Rice can provide you with implant-supported dentures that eliminate these problems.
We know that your time is incredibly valuable and that it is hard to fit multiple appointments into a busy schedule. With the All-on-4® Treatment Concept you could have a beautiful new set of implant supported dentures in just one day!
Schedule a Denture Consultation Now!
Denture Types
For those who are missing all of their upper and/or lower teeth, a full denture can replace the entire arch. Dentures can also replace multiple missing teeth when other teeth remain in the arch. There are two common types of partial dentures available; fixed partial dentures and removable partial dentures.
Removable Partial Dentures
Removable partial dentures are generally given to those who are missing only some of their teeth in a particular section of their mouth. Just like their name says, they are removable for ease of use. You can put the partial denture in your mouth yourself and take them out without assistance.
Removable partial dentures are made with a metal framework that has attachments ensuring that the dentures secure properly in the mouth. This holds the removable partial dentures in place but still allows an individual to take out the denture for cleaning. Removable partial dentures are utilized by individuals for a number of reasons.
Some of these reasons include:
Patients who are not candidates for fixed partial dentures
Gum condition
Financial consideration
And more
Traditional Full Dentures
If you are missing enough teeth to need a full dental replacement, full dentures can be a great way to restore your whole smile again.
Full dentures provide a full set of replacement teeth connected to a base that is made to fit snugly over your gums. You'll use a sturdy dental cement to lock them in place during the day as you go about your daily routine. Then you'll be able to smile, speak, and eat with comfort and ease once again—though you should avoid extremely sticky foods.
Like removable partial dentures, traditional full dentures are also removable for easier cleaning at night and more comfort while you sleep. These are also a very time-saving and cost-effective way to replace your whole smile with a fully functional set of teeth.
Fixed Partial Dentures
Fixed partial dentures, also referred to as dental bridges, permanently replace one or more teeth by placing dental crowns on teeth on either side of missing teeth. After this, an artificial tooth (or teeth) is attached to them. The fixed dentures are secured into place by using a cementing compound. This ensures the artificial teeth will stay in place.
The fixed dentures have many advantages. Since they are actually fixed to your remaining teeth the integrity of your current teeth is never compromised. The fixed dentures ensure that your remaining teeth will not shift or move. Although fixed dentures are a little more expensive than removable partial dentures, the results are generally phenomenal.
Implant-Supported Dentures
Traditional full and partial removable dentures are placed on the gums with adhesives. Because of this, they can slip and cause discomfort from rubbing the gums. In addition, there are no teeth roots to continually stimulate the jawbone, which causes the bone to recede.
Implant-supported dentures are part of the latest dental technology available, and we are proud to offer them as an option. Our implant procedure is designed to help make your mouth more comfortable, and it helps keep your jawbone active.
Dr. Rice provides his patients in the Elgin and St. Charles areas with a few options of implant-supported dentures that provide comfort, stability, and bone stimulation:
Overdentures on Mini Implants | Mini dental implants can be strategically placed in the jawbone to become anchors to overdentures. Dental implants will stimulate the jawbone allowing it to remain an active part of the teeth, slowing the resorption process. These dental implant-supported dentures are removable, so they can be easily cleaned and maintained.
All-on-4® Treatment Concept | One of the most exciting developments with full mouth teeth replacement is the advent of the All-on-4® Treatment Concept. By placing four dental implants at different angles in the jawbone, your dentures can be permanently attached. With this method and the cosmetic skills of Dr. Rice, your new teeth will function and even look like natural teeth!
Even better, all of this can be done in just one day! You can walk into our Elgin office in the morning and walk out that same day with a full set of beautiful teeth. Ask us today about the All-on-4® Treatment Concept and you can enjoy new teeth in as little as one day.
SynCone® Removable Implant-Supported Overdentures | Similar to the All-on-4® Treatment Concept, the ANKYLOS® SynCone® overdenture system uses four dental implants to secure overdentures. These implants are uniquely designed to give SynCone a huge advantage over the All-on-4® Treatment Concept—the overdenture is removable!
This allows you to have a denture that feels so stable you will think it is screwed into the jawbone, yet is removable to be able to clean and maintain easily. SynCone® is not only Dr. Rice's preferred method to replace multiple teeth for his patients, it is also the best value for your money.
Comparing Your Full Denture Options
With all these options available it can be hard to decide which denture option will work best for you. Consider the following when looking to replace your teeth:
Stability: Traditional dentures are held in place with a sturdy dental adhesive that is meant to last; however, they can still occasionally slip out of place during your daily activities. All of your implant-supported options—including the removable ones—will be securely attached to your jawbone through the implants.
Function: All types of dentures will be able to restore your chewing, speaking, and smiling abilities. However, with traditional dentures, you may have to avoid certain sticky foods, while implant-supported dentures offer the benefit of eating any food you want.
Look: Thanks to Dr. Rice's great cosmetic dentistry skills, most styles of dentures can be custom-made to look like natural teeth for a beautifully restored smile. Implant-supported dentures have the added benefit of strengthening your jawbone and  overall facial structure as well for a youthful appearance.
Maintenance: This feature depends on your preference. Fixed implant-supported dentures will stay in your mouth permanently, and you brush and floss them just like you would your natural teeth. Traditional and implant-supported removable dentures are meant to be removed at night, which allows you to easily brush all of the teeth while holding the restoration in your hand.
Time: If you are looking for a quick smile restoration, you should consider traditional dentures or a solution such as the All-on-4® Treatment Concept. Traditional dentures can be quickly crafted and fit to your gums, and the All-on-4® Treatment Concept offers a full set of teeth in a day—both options to get you back to smiling as soon as possible!
Cost: Traditional dentures are generally more affordable up front than any of the implant-supported options because they skip the added surgery of placing the dental implants in your jaw. Beyond that, implant-supported dentures will vary in cost depending on whether you use full size or mini implants, as well as on how many implants are placed.

However, you should also consider that you may need to replace your traditional dentures as your jawbone will change and recede without the stimulation from the dental implants.
When you come in for your consultation, Dr. Rice can help guide you through selecting the best dentures for your budget and lifestyle needs.
How Do I Properly Care for My Dentures?
Taking care of your dentures is necessary for your oral health, and it will stop you from having to replace them prematurely. After receiving your dentures, Dr. Rice will be sure to educate you on how to keep them clean.
Below we have included some guidelines as a to reference to make the process easy to remember:
Rinse dentures after you eat. During mealtime, food particles collect under your dentures. Bad breath can be avoided by practicing proper dental hygiene. Wash them with water to get rid of the excess build up.
Soak your dentures when you're not wearing them. It's important to do this so that dentures retain their shape. During your visit, we will recommend cleansing solutions to you, that will keep your dentures from drying out.
Brush daily. Dentures need to be removed and brushed on a regular basis with a soft-bristled brush and denture cleanser. This will help keep your gums and mouth healthy when wearing them.
If you have any questions or problems that come up with your denture use, feel free to call us right away! We are here to help, and we want to make sure your teeth are something to smile about.
Call David Rice, DDS, to Learn More About Restoring Your Full Smile
Contact our office today for a consultation and to see if dentures would be right for you. We will take the time to go through all of your options with you, whether it be dentures or dental implants.
At David Rice, DDS we truly care about you, your needs, and, of course, your smile. Your perfect smile is only a phone call away. We serve patients from throughout the Elgin, South Elgin, Gilberts, St. Charles, Hampshire, and Huntley areas of Illinois.
For those that have dental anxiety or a fear of the dentist, make sure to ask about how sedation dentistry can improve your experience with us!
Related Content