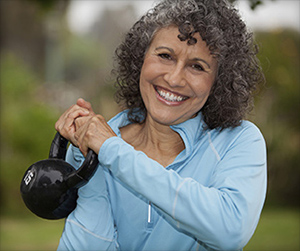 In the early days of implant dentistry, if you didn't have enough bone material to place a dental implant, you had to find another tooth replacement option. Thankfully, with the help of advancements in modern dentistry at David Rice, DDS, more patients than ever before are able to receive dental implants to restore their smile.
Are you one of the St. Charles area patients who are interested in dental implants but may not have enough jawbone for the procedure? In addition to bone grafting, Dr. David Rice, Elgin cosmetic dentist, provides skilled sinus augmentation for implant dentistry patients.
A sinus lift is performed when a patient needs a dental implant on the upper jaw but does not have sufficient bone material to support an implant. The sinus membrane is like a pocket and with oral surgery it can be raised to help give more room to developing bone during a bone graft.
Dr. David Rice will be able to diagnose your mouth with a simple CT scan to see if this procedure is right for you.
What To Expect From Sinus Augmentation
Since a sinus lift involves oral surgery, we do everything possible to ensure our patients are comfortable and relaxed.
Dr. David Rice specializes in a variety of sedation dentistry options so you can have a stress-free procedure. Once you are comfortably sedated, Dr. Rice will make an incision and cut a small circle in the upper jawbone. The circle of bone is then lifted into the sinus cavity and the area below is filled with material for the bone graft. The incision is then closed and the patient begins the healing process.
Sinus Lift Post-Operative Care
Each patient has individual dental needs, so healing can take anywhere from four months to a year before dental implants can be placed.
In the weeks immediately following the oral surgery, sinus lift patients will need to be diligent about keeping the surgery site clean.
There may be some bleeding or swelling for the first day or two. Patients will receive pain relief medication, saline spray and instructions on how to clean the sinuses using a Neti pot.
The majority of our sinus augmentation patients report only mild discomfort following the procedure.
We often hear our patients say that the sinus lift procedure was completely worth it, once they see the positive effect dental implants can have on their smile. It can revitalize their whole appearance, bringing them a new level of confidence and self esteem.
If you are ready to smile again with a more permanent solution, you may want to consider a sinus lift for your implant dentistry procedure.
Talk to Dr. David Rice today to learn about how sinus augmentation can benefit you and your oral health.
For those that have dental anxiety or a fear of the dentist, make sure to ask about how sedation dentistry can improve your experience with us!
Related Content