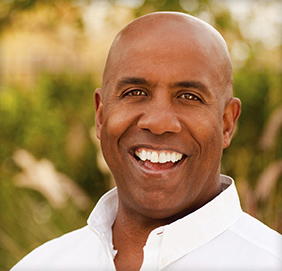 Dr. David Rice does incredible work giving his St. Charles area patients beautiful, healthy smiles with general and cosmetic dentistry. Sometimes, though, a smile may need more than a simple cleaning or teeth whitening.
Do you have missing teeth? Have you been told you are unable to receive dental implants because your jawbone isn't tall or wide enough? Dr. David Rice has helped many Elgin restorative dentistry patients renew their smiles by using a bone graft for dental implants.
A dental bone graft is a procedure that allows patients with jawbone loss to still enjoy the benefits of dental implants. During a dental bone graft procedure, bone and tissue is grafted (or added) on to your jawbone. Over time, this material works with your body's bone-building cells to form new bone.
When you come in to David Rice DDS for a dental implant consultation, Dr. Rice will assess your jawbone and see if bone grafting is the answer for you.
Am I A Dental Bone Graft Candidate?
Age is one qualifying factor. As we grow older, we automatically start to lose bone density. We also lose bone where teeth have been extracted or have experienced gum disease or trauma.
A simple CT scan, done in our Elgin, IL office by our skilled team, will let you know right away if you require bone grafting for your restorative dental procedures.
How Long After Bone Grafting Will It Take To Grow New Bone?
After the dental bone graft is placed, new bone growth typically takes 3-6 months. Dental implants can then be placed 4-9 months after that to ensure the new bone material is healthy and strong.
Although a bone graft for dental implants is not a quick fix, the majority of our patients consider this process to be a very worthwhile procedure because it allows them to have a more permanent smile that looks and functions just like their real teeth.
Bone Grafting Materials
There are a few different options when receiving a bone graft for dental implants.
Autograft – This procedure involves taking bone from your own body
Allograft – An Allograft uses human tissue from a Nationally Accredited Bone Bank
Xenograft – This option uses cow or horse bone to fuse with your jawbone
Dr. David Rice will discuss these procedures with you to help decide which will be the best option for your smile.
Thanks to Dr. Rice's extensive experience with dental bone grafting, patients at David Rice, DDS in Elgin are able to receive dental implants where they may have not been able to otherwise.
If you are considering dental implants or a dental bone graft, contact Dr. David Rice today. We will schedule you for a consultation so you can begin the next step towards having a beautiful, more permanent smile.
For those that have dental anxiety or a fear of the dentist, make sure to ask about how sedation dentistry can improve your experience with us!
Related Content