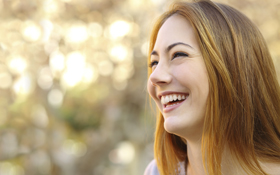 We know that attractive teeth play an indispensable role in helping you feel confident. Your smile is one of the first things that other people notice, and it is important for you to make a memorable first impression.
If you are less than satisfied with the current version of your teeth, we can help makeover your smile! Our practice uses modern dental cosmetic procedures, such as dental veneers, to enhance your teeth and give you a beautiful new smile.
What Are Tooth Veneers?
Dental veneers are very thin pieces of durable porcelain or composite resin that are custom-made—for both shape and color—to enhance your teeth just how you want. They are bonded onto the front of your teeth to fix a single tooth imperfection, or they can be used to create a completely new beautiful and attractive smile.
Veneers are most often used cosmetically to create a uniform, white, beautiful smile. Veneers are crafted uniquely for you, using dental impressions that we take on your first visit. The result is personalized teeth designed with you in mind.
Benefits of Dental Veneers
There are many benefits of getting tooth veneers for your smile. Porcelain veneers are a beautiful and quick way to cover a variety of cosmetic dental issues including:
Crooked teeth. If your teeth are crooked, we can bond porcelain veneers to give them a straight appearance.
Misshapen teeth. Dental veneers are custom created to give your teeth the look that you have always wanted.
Severely discolored or stained teeth. We design porcelain veneers to look like natural teeth, giving you a whiter, fresh smile.
Teeth that are too small or large. If the size of your teeth stand out or make you feel subconscious we can fix this by applying veneers.
Unwanted or uneven spaces. Gaps in your teeth can be covered by a veneer.
Worn or chipped teeth. If you are missing part of your tooth, the covering of a veneer can restoratively patch the area where the chip was.
Porcelain veneers can completely reshape your teeth and smile. They can often be alternatives to dental crowns and the ideal solution in treating many dental conditions. Porcelain dental veneers are very durable and will last many years, giving you a beautiful long lasting smile.
Beyond these physical benefits, veneers can contribute to better self-esteem. Having a brand new smile could give you the confidence boost you were looking for to apply for that new job, or make new friends and connections in your social life!
We'd love to help you make this step forward in your life. When you come to Dr. Rice for your veneers, you'll be in good hands every step of the way!
What Does Getting Porcelain Veneers Involve?
Getting dental veneers usually requires two visits to complete the process, with little or no anesthesia required during the procedure. We offer both traditional and prepless veneers, and the process will be slightly different depending on which method you choose.
Schedule a Dental Veneer Consultation Now!
Traditional Dental Veneers
Traditional tooth veneers are generally made of thin sheets of porcelain, custom-crafted to match your teeth perfectly.
For traditional veneers to be as long-lasting and sturdy as they are, your teeth are prepared by lightly buffing and shaping the surface to allow for the thickness of the porcelain veneer.
A mold or impression of the teeth is taken and a shade (color) will then be chosen by you and Dr. Rice to most closely match the color of the surrounding teeth. This ensures that your teeth look as natural as possible to restore your smile and your confidence.
On the second visit, the teeth will be cleansed with special liquids to achieve a durable bond. Bonding cement is then placed between the tooth and dental veneer and a special light beam is used to harden and set the bond.
It is important to us that your new smile is long-lasting. You will receive care instructions for your new porcelain veneers. Proper brushing, flossing and regular dental visits will aid in the life of your dental veneers.
Lumineers Prepless Veneers
Lumineers are a special brand of dental veneers also offered by Elgin cosmetic dentist Dr. David Rice. We recognize that your time is valuable, and we want to make the veneer procedure as seamless as possible. Lumineers veneers are prepless and reversible to ensure a quick smile makeover.
Prepless veneers are thinner than the traditional dental veneers and therefore require less preparation of the natural teeth.
Lumineers are often referred to as "prepless veneers" or "no-prep dental veneers." Since the enamel is not removed from the natural teeth, Lumineers can be removed in the future, if necessary.
Similar to traditional porcelain veneers, Lumineers are durable and regular brushing, flossing and dental visits will help them keep your smile radiant.
Porcelain Veneers vs. Lumineers
There are many options available to renew your smile and we want to help you pick the one that works best for you.
Lumineers | Because the process of getting Lumineers is less invasive than traditional veneers, your tooth enamel won't be removed during the preparation process. This allows you to preserve your natural tooth while still enjoying the full cosmetic benefits of the procedure. As mentioned above, Lumineers can be removed if desired.
Lumineers are also more thin than traditional veneers, but for some this might make their teeth look more bulky when applied.
Porcelain Veneers | On the other hand, porcelain veneers are much longer lasting than prepless veneers. The tooth preparation you need for porcelain veneers ensures a secure bond that can last 5–7 years longer than prepless veneers.
Additionally, porcelain veneers tend to look whiter and more natural than prepless veneers because of their tooth-like sheen.
When you come to David Rice, DDS, for your veneers, we'll help you decide which of these options will be best for you. Ultimately, both porcelain veneers and lumineers are great options for reclaiming your smile.
Do I Need Dental Crowns or Porcelain Veneers?
Both crowns and veneers can help restore damaged teeth. We are pleased to offer both services, but the right one depends on the condition of your teeth.
Veneers | If the structure of your tooth is intact and your teeth are fully functional then veneers might be preferable. Veneers can be used to correct many of the cosmetic issues mentioned above, including minor chips or cracks or reshaping a tooth.
Crowns | Dental crowns are caps that can cover a full tooth. They help to preserve their integrity and structure. If your teeth are badly damaged—including being broken, fractured, or severely chipped—or if you have fractured fillings, crowns are a necessary fix.
They will protect the remaining part of the tooth and give it strength. Crowns can be made to look like natural teeth, providing a cosmetic enhancement to your smile.
We want to help you pick the right option for restoring your confidence and the function of your teeth. During a consultation, Dr. Rice can work with you to come up with a plan that works best for your circumstances.
I'm Ready For My New Smile, What's Next?
If you live in the Bartlett, St. Charles, and Elgin areas, contact David Rice, DDS, today to learn more about porcelain veneers and prepless Lumineers. The beautiful smile you deserve can be yours sooner than you think.
Related Content