Restore Missing or Damaged Teeth in Elgin, IL!
Dental implants have become the restoration of choice for hundreds of dental patients for good reason. With implant technology, you can restore the comfort, structural integrity, and bite strength of your teeth, making your smile indistinguishable from a natural one. Regain the pleasure of eating and laughing without fear of embarrassment. If you are missing teeth, discuss your implant dentistry options with Dr. Rice during a private consultation in our Elgin, IL office.
Dr. Rice is simply the best dental implant dentist option for Chicago's Northwest Suburbs. But why?
His skill in placing each tooth implant.
His cosmetic dentistry experience and artistry which result in beautiful restorations such as crowns, bridges, or dentures that are perfectly compatible with dental implants.
His focus on patient comfort, safety, and satisfaction ensures that your implant dentistry procedure will go smoothly. He specializes in using cutting-edge 3D CT scanners to create a 3D image of your jaw. This helps our team find the exact location to place the tooth implant, allowing us to simultaneously keep nerves and other structures healthy, and determine factors like bone density and quantity, the need for a potential bone graft, and overall implant viability.
The advanced healing process he uses for his patients (see below).
He offers sedation dentistry for those who need it.
He offers a variety of tooth implant options, including All-on-4® "teeth in a day" dental implants and SynCone® removable implant-supported dentures.
If you live in St. Charles, Bartlett, Rockford, or even somewhere else in the world, it is worth the trip to Elgin, IL for the advanced, state-of-the-art implant dentistry that Dr. David Rice offers.
Call Now to Schedule! 847-741-2353
---
What Are Dental Implants?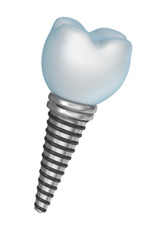 After years of wear and tear, your teeth can often become damaged or cracked, leaving you with an unhealthy smile and a lack of self-confidence. Missing teeth can have a negative impact on your oral health and can lead to further complications. However, you're in luck! They can be easily and effectively fixed with dental implants at our office. Dental implants are medical devices that replace the root portion of missing natural teeth.
The actual tooth implant consists of a durable, biocompatible, cylindrical post that is placed below the gums in the upper or lower jawbone. It is usually made of titanium. Part of the tooth implant extends through the gums and serves as an anchor for one or more artificial teeth.
A tooth implant may be used to support a single artificial tooth or several teeth. Because they are firmly anchored into the jawbone, artificial teeth supported by dental implants provide the look, feel, stability, and function of natural teeth.
In order to answer the question "What are dental implants?", it is crucial to understand the underlying problem with the root of a damaged tooth. Dental implants serve as anchors, replacing the natural root and providing support for either dental caps or dentures. Your new artificial teeth will be extremely reliable thanks to the excellent support provided by a dental implant. Dr. Rice has experience placing various different types of implants; from standard titanium implants to mini implants, and much more. He is experienced in these restorative dentistry techniques and can quickly give you a gorgeous and healthy new smile.
---
Types Of Dental Implants: Mini Implants & Titanium Dental Implants
Dr. Rice offers both standard dental implants as well as mini implants: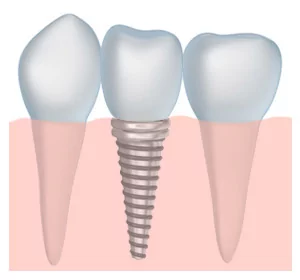 Titanium Dental Implants | Titanium dental implants are very strong and sturdy. When used in conjunction with a dental crown, you will hardly notice a difference when compared to a natural tooth. Titanium dental implants can anchor one or several artificial teeth, allowing you to maintain your usual eating habits and restoring chewing ability. In addition, your new titanium dental implants do not require any special care or additional maintenance.
Mini Implants | Mini implants can often be ideal for replacing a missing tooth, especially in the lower jaw. They require a less invasive procedure and also offer a shorter recovery time. Smaller than traditional implants, mini implants tend to be very cost-effective and an excellent choice for certain patients.
Implant Supported Dentures | Implant-supported dentures can be the ideal solution for many patients, and compared to traditional dentures, they are much more convenient. For this procedure, Dr. Rice uses tooth implants to anchor your dentures comfortably to your gum line. This eliminates the need for messy adhesives and the risk of embarrassing slippage.
All-On-4 | When used in conjunction with implant supported dentures, dental implants placed via the All-on-4® procedure are reliable and comfortable. They also have many additional benefits compared to traditional dentures.
---
Benefits of Tooth Implants
Implant dentistry has a wide variety of benefits including the following:
Aesthetics | If you're tired of feeling embarrassed about one or more missing teeth, a tooth implant will bridge those gaps and give you a stunning new smile that you can show off proudly. Tooth implants can prevent future bone loss and facial sagging. Never feel embarrassed about a missing tooth again, and get ready to show off your new smile to all your friends and family.
Improve Oral Health | If left untreated, a missing or damaged tooth can often lead to more serious oral health care problems. Ignoring oral health issues can have a negative impact on your overall health, and can cause additional dental problems. Tooth implants can be a very effective method of tooth replacement, helping rebuild your smile and restore your oral health. Dr. Rice will carefully diagnose your current dental issues, and help you achieve lifelong oral health.
Convenience | Because your entire procedure can be completed by Dr. Rice at his Elgin dental office, you never need to worry about being referred to an oral surgeon. This saves you precious time and spares you from extra office visits to a separate provider.
Durability | It is important for patients to trust their tooth stability, especially while chewing and speaking. Implants can facilitate this, as well as eliminate the bulkiness and sore gums sometimes associated with dentures. With dental implants, you can start over and have renewed self-confidence.
Versatility | Many of our patients have chosen implant dentistry to replace a single tooth, several teeth, or to support partial or full dentures. Dental implants are the closest thing to natural teeth; they can help you be confident in your teeth.
Continuity of Service | Dr. Rice handles your dental implant procedure from beginning to end, so you can always trust that the same dental team will be monitoring every step of the process, ensuring continuity and consistency in your results. Avoiding an unnecessary visit to an oral surgeon will save you both time and money.
Faster Recovery Time | Dr. Rice seeks to be as careful as possible during the dental implant procedure, to ensure as fast a healing process as possible.
Schedule an Implant Dentistry Consultation Now!
---
Am I a good candidate for implant dentistry?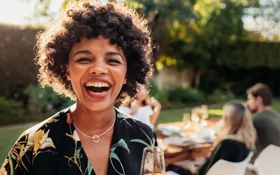 If you're feeling embarrassed about one or more missing teeth, you may be an ideal candidate for implant dentistry. Missing, broken, or cracked teeth can not only be dangerous to your oral health; they can also cause a serious decline in self-esteem. Do you hide your smile from others? Do you ever look at magazines and wish you could have a gorgeous, healthy smile, like what you see in the photos? The good news: you can, and a professional tooth replacement specialist like Dr. Rice has the experience to give you the smile of your dreams. Dr. David Rice can help you decide if you are eligible for a tooth implant. In fact, your health is more of a factor than your age. In most cases, you are a good candidate for implant dentistry if you:
Are in good health
Don't use tobacco
Have good oral hygiene
In some cases, you may not have enough bone structure in the jaw to support dental implants. Dr. Rice can often perform bone grafts or sinus lifts to correct this, making just about anyone eligible for an implant!
---
Healing After Receiving Dental Implants
PRGF™-Endoret™ technology, created by the Biotechnology Institute, uses a patient's own blood to speed both healing time and tissue regeneration. Our dental team creates a platelet concentrate from a patient's own plasma using a centrifuge. Dr. Rice then applies that concentrate to the implant site during dental implant surgery. This gives the affected area a boost of platelets, ensuring quicker recovery and more efficient healing.
This innovative protocol is completely bio-compatible and safe for patients, resulting in no observed negative side effects. Studies have shown that this procedure can accelerate healing mechanisms in the body by up to 40%, dramatically shortening the post-op recovery period for implant dentistry patients.
---
How To Choose An Implant Dentist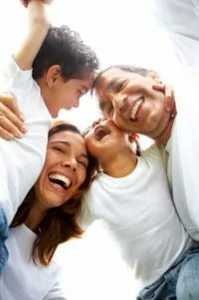 Choosing the right dental implant dentist is one of the most important decisions you will make in regards to your oral health. Confidence in your dental team is imperative, and working with a trusted dental implant dentist like Dr. Rice will give you the peace of mind you need to feel great about your new smile. Our entire team has specialized training and uses all of the latest state-of-the-art dental technology, including CT scanners, so you can rest assured that you are receiving the best treatment available.
Skillful | Our skillful dental team is able to craft your beautiful new smile according to your exact specifications. What's better, they are led by Dr. Rice, whose impeccable artistry sets him apart as a leader among dental implant dentists around the world.
Caring | We focus on patient communication and make sure to provide you with all the information you need to make educated decisions. Our caring staff takes the time to really develop relationships with our patients, and always go the extra mile to make everyone feel welcome and comfortable.
Experienced In Advanced Dental Technology And Techniques | Thanks to advances in modern dental technology, there are a large number of dental implant dentist techniques available to rebuild your smile. Dr. Rice specializes in the most current procedures, including All on 4® implants, CT scanner analysis, and accelerated healing treatments.
Satisfied Lifelong Clients | Nothing speaks to our success like the vast number of satisfied patients who are part of our dental family. Clients come to Dr. Rice for a comfortable, judgment-free atmosphere, consistent dental implant care, and open communication every step of the way.
---
Are Dental Implants Affordable?
At David Rice DDS, one of our goals is making the cost of high-quality dentistry as attainable as possible for all patients. To accomplish this we offer several payment options, including our own in-office payment plan:
In-Office Payment Plans (for 3-6 months) with 0% Interest
Signed financial agreement will be made within the guidelines of the Uniform Consumer Credit Code.
Dental Credit Application MUST be approved.
One-fourth payment is due at first treatment appointment. Additional payments will be divided between 3-6 months.
Credit or Debit card will be kept on file and charged automatically on date determined on financial agreement.
With our payment plan, patients can have dental Implants for as low as $675/month with 0% interest! We encourage patients interested in dental implant financing to reach out to us to discuss our dental payment plan in further detail should they have any questions. To learn more about our financing and insurance policies please click the link below:
Learn More About Dental Financing
---
Frequently Asked Questions
Schedule an Implant Dentistry Consultation Now!
We understand that your oral health is extremely important, which is why we take the time to educate you on the many procedures available for dental restoration. Choosing implant dentistry services that are effective and reliable will ensure you receive the best care available, and visiting an implant dentistry specialist like Dr. Rice will set you on the path to achieving exceptional dental health.
Our warm and welcoming staff will guide you, step-by-step, through the entire process. We are ready to answer any questions you might have. Since one of our priorities is patient confidence, you can trust the information we provide you. Make the right decision when choosing your implant dentist, and choose Dr. Rice!
Contact Dr. Rice's office today in the Elgin, Bartlett and St Charles IL area to set up your initial consultation, and learn more about your options with dental implants. Give us a call using the number above or fill out the form on this page. For those that have dental anxiety or a fear of the dentist, make sure to ask about sedation dentistry!
Request an Appointment Now!
Related Content