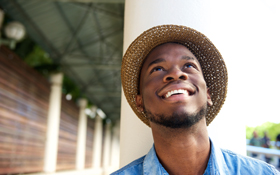 Diagnose. Treat. Maintain.
The word periodontal means "around the tooth". Periodontal disease, commonly known as gum disease, attacks the gums and the bone that support the teeth. Gum disease can be started by plaque, a sticky film of food debris, bacteria, and saliva. If plaque is not removed from the teeth, it turns into calculus (tartar).
When plaque and calculus are not removed, they begin to destroy the gums and bone. Periodontal disease is characterized by red, swollen, and bleeding gums.
Four out of five people have periodontal disease and don't know it! Most people are not aware of it because gum disease is usually painless in the early stages.
Not only is it the number one reason for tooth loss, research suggests that there may be a link between periodontal disease and other diseases, such as:
Stroke.
Bacterial pneumonia.
Diabetes.
Cardiovascular disease.
Increased risk during pregnancy.
Smoking can also increase the risk of gum disease. Good oral hygiene, a balanced diet, and regular dental visits can help reduce your risk of developing periodontal disease.
Advanced Gum Disease Treatment Methods and Technology: the David A. Rice, DDS Difference

Our practice has a unique approach oral hygiene. We utilize the latest dental technologies to ensure that your teeth and gums stay in the best condition possible. One technology in particular, EMS Dental's AIRFLOW® Prophylaxis Master unit, allows us to administer Guided Biofilm Therapy.
Guided Biofilm Therapy (GBT) is a modern approach to dental biofilm management and oral hygiene. It is a comprehensive method that involves the systematic removal of dental plaque, stains, and calculus (tartar) from the teeth and gums. GBT is designed to improve oral health and prevent oral diseases such as tooth decay and periodontal (gum) disease.
---
Cutting Edge Technology
We use Swiss Manufacturer EMS Dental's AIRFLOW® Prophylaxis Master unit to provide world-class oral care.
Guided Biofilm Therapy
A thorough, yet gentle approach to oral care, ensuring a cleaner, fresher mouth and a reduced risk of dental issues.
Preventative Care
We help identify and treat potentially costly oral health problems in their earliest stages.
Multiple Benefits
Tailored to the needs of each patient, GBT can remove stains, eliminate bad breath, and increase the longevity of natural teeth.
Signs and Symptoms of Periodontal Disease
Bleeding gums. Gums should never bleed, even when you brush vigorously or use dental floss.
Loose teeth. Also caused by bone loss or weakened periodontal fibers (fibers that support the tooth to the bone).
New spacing between teeth. Caused by bone loss.
Persistent bad breath. Caused by bacteria in the mouth.
Pus around the teeth and gums. Sign that there is an infection present.
Receding gums. Loss of gum around a tooth.
Red and puffy gums. Gums should never be red or swollen.
Tenderness or discomfort. Any sign of dental discomfort is a good reason to call us!
The Vital Importance of Treating Gum Disease
Your teeth are an essential part of your daily activities, including eating, speaking, and smiling.
Healthy teeth begin with healthy gums! The roots of your tooth are housed by your gums and are an active, living part of your mouth. Compromised gums can lead to dental decay and, ultimately, tooth loss.
Our practice shares your commitment to helping keep you safe from gum disease. By scheduling a regular cleaning you can prevent the buildup of plaque and maintain your oral health. We keep ourselves updated on the latest science of dental prophylaxis, and we use the latest technology in the industry.
A Modern Solution That Your Gums Will Love
As your dental partner, we want you to be just as excited and educated about your oral health as we are! To deliver on the promise of keeping you satisfied and informed, Dr. Rice is pleased to offer the experience of Guided Biofilm Therapy (GBT) as a solution for your dental cleaning.
GBT uses the latest technology and treatment methods available in dentistry to remove plaque and calculus from the gums and teeth. As our patient, you will benefit by having your cleaning require the least minimally invasive treatment possible.

Standard dental practices use tools that scrape your teeth and chemicals that are more abrasive. Here at David Rice DDS, we help you avoid this by cleaning your teeth in a way that helps eliminate sensitive mouth pain.
How Does Guided Biofilm Therapy Work?
During your routine visit to our office we will apply Biofilm discloser. This will visibly highlight occurrences of plaque buildup on your teeth, making it easier for us to target and remove. The resulting coloration to these areas will help show you how effective your oral hygiene has been.
Next, we use AIRFLOW® technology to remove the biofilm. This instrument cleans and polishes your teeth at the same time, and is a significantly faster removal method than traditional tools.
Afterwards, we may use other tools, if necessary, to remove any additional calculus or biofilm at the gum level. We finish our treatment off by applying fluoride and educating you on how to continue to take care of your teeth at home.
Take Your Next Step in Fighting Gum Disease by Calling Us!
If it has been a while since you have seen a dentist or if you suspect you may have gum disease, contact Elgin dentist Dr. David Rice today. While gum disease may not be painful or obvious in its early stages, it can lead to very serious problems for your dental health and overall health.
We help patients in the Bartlett, South Elgin, St. Charles, and Elgin areas live free of gum disease.
Related Content