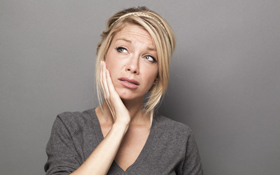 Good oral health is vital to good overall health. When your teeth are damaged, missing, diseased, or otherwise inflicted, we want to help restore both the health and the appearance of your teeth. That is why we take pride in our restorative dentistry procedures.
Dr. Rice believes in being your health partner—not just your health provider. With this mindset, he and our entire team put your needs first in all our restorative dentistry treatments.
Restorative Dentistry Procedures at Dr. Rice DDS
When injury, disease, decay, age or something else makes you lose one or more teeth, there is hope. Sometimes the answer might be porcelain teeth crowns to cover root canals or teeth implants. Maybe dentures are needed. Or maybe it is a full mouth reconstruction that is required. Whatever the problem, we can help find a solution!
Dr. David Rice offers many types of restorative dentistry to patients in the Elgin, Illinois, area including:
Dental Crowns – Dental crowns, also referred to as "tooth caps", are placed on weak or damaged teeth in order to cover and protect them.



Learn More About Dental Crowns

Dental Bridges – Dental bridges are used to "bridge" gap between one or more missing teeth.



Learn More About Dental Bridges

Dentures – Dr. Rice offers a variety of denture options to patients, including partial dentures, traditional full dentures, and even implant supported dentures.



Learn More About Dentures



Teeth Implants – Dental implants are the gold standard when it comes to replacing a missing or damaged tooth. Dr. Rice is a skilled oral surgeon who utilizes PRGF™-Endoret™ technology to accelerate healing mechanisms in the body by up to 40%, dramatically shortening the post-op recovery period for implant dentistry patients.



Learn More About Dental Implants

Full Mouth Reconstruction – Full mouth reconstruction is reserved for patients who have undergone significant disease, trauma, or infection to their mouth or teeth. It involves repairing and rebuilding the appearance and function of your mouth using multiple dental procedures.
And many more!
Whether your dental restoration needs are big or small, call our office today. We can fix chipped teeth, broken teeth, missing teeth, weakened teeth, and much more!
Benefits of Restorative Dentistry
Dr. Rice's goal is to restore comfort, ability to chew foods, and even self-image and social confidence! Restoring your smile can help with all these things, as well as many other benefits.
Increased Confidence
An attractive smile is often the first feature that people will notice about you. A survey conducted by The American Dental Association in 2015 shows that 16 percent of people in Illinois avoid smiling because they feel embarrassed by the condition of their teeth. If you are one of those people, we can help!
Just think: with a new smile you can feel less anxiety and stress about going out to dinner with friends and family.
Restorative dentistry with Dr. David Rice DDS can also improve your social confidence. In a world filled with constant social interactions, we can provide you with the satisfaction of exhibiting a healthier lifestyle to others.
Improved Success in Work and School
Your professional reliability can be impacted by the quality of your teeth. Research has shown that potential job candidates are more likely perceived to be trustworthy. You also stand out to employers if your teeth are in good shape.
The modern restorative services that we offer can help you be more willing to share your smile, which may, in turn, increase your confidence and productivity in the workforce. Increased success in your social life is also possible with a healthy, vibrant smile!
Natural Feel and Function
Any replacement for missing teeth must feel like natural teeth and be easy to clean. Especially if you need larger scale restorative dentistry, it is important that your teeth are stable while eating, allow you to speak properly, and eliminate the bulkiness and sore gums sometimes associated with dentures.
With a full mouth reconstruction, one possibility is implant-supported dentures. When anchored by teeth implants, most if not all of the issues associated with typical dentures are eliminated so you can eat, talk and smile with confidence.
Beautiful Appearance
Besides good function, the ideal results of restorative dentistry must look like natural teeth—both to you and others. We offer a variety of products created to mimic and improve your original teeth.
This is one reason we'll recommend porcelain teeth crowns rather than metal crowns, particularly for visible front teeth. Porcelain teeth crowns will look like your natural teeth in color, texture, and shine to blend in nicely with your smile
Enhanced Security
Our goal is to take care of your teeth, so that your teeth can take care of you. We use only the best tools here at our St. Charles and Bartlett, IL, area office. This means, you won't have to worry about your dental crowns chipping or your dentures slipping out of place.
The long term safety of replacing your teeth with Dr. Rice is well established, and he will discuss a treatment plan designed just for you.
When Would I Need Restorative Dentistry?
Dental concerns are more than just an inconvenient hassle. Untreated issues can eventually cause gum disease, or more serious permanent damage.
You might need restorative dentistry if you suffer from one of the following:
Chipped, cracked, or broken teeth.
A missing tooth or multiple missing teeth.
Gaps between teeth.
Weakened or decayed teeth.
Severe gum disease.
Misshapen, undersized, or oversized teeth.
Any other dental damage.
An investment in your teeth and gums is an important commitment towards your future well-being. By taking your oral health seriously, you ensure that you can continue to maintain your daily routine and be yourself around others.
Restore Your Smile With a Dentist Who Cares
Dr. Rice is a member of the American Academy of Restorative Dentistry. Every February, he participates in their annual meeting, devoted to lectures and clinics for the exchange of academic information. He is also a Mentor (CI) at the prestigious Kois Center (Seattle, WA), a world-renowned post graduate training institute. He has achieved the highest level, accomplished by fewer than 25 dentists worldwide.
Elgin dentist Dr. David Rice is committed to the maintenance, appearance, and overall oral health of his patients. Whether it is a single tooth replacement, teeth crowns, dentures, full mouth reconstruction, teeth implants, full upper mouth replacement, or full lower mouth replacement, Dr. Rice can discuss the appropriate treatment options with you so you can make the appropriate decision.
Call Us Today to Learn More About Restoring Your Damaged Teeth
Contact our office in Elgin, Illinois, today for a restorative dentistry consultation. Please use the number above or fill out the form to the right. We look forward to helping you smile with confidence again.
Related Content