Your Comfort Is Always Our Priority!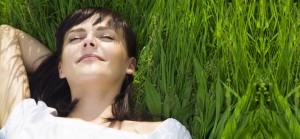 Dr. Rice, a dentist in Elgin, Illinois, makes your comfort a priority at every visit. To help you relax and have an entertaining distraction, Dr. Rice's treatment rooms are equipped with stereo headsets, allowing you listen to selected music throughout care. Plasma TV screens are mounted in treatment rooms, allowing you to view your favorite DVD on an LCD screen. Blankets and pillows are also available for your comfort.
When helpful, oral images can be displayed to enhance your understanding of treatment discussions. Tilted and aligned at a comfortable angle for you in the chair, this technology won the "Dental Innovation of The Year" award.
For those who have fear that prevent them from dental care, Dr. Rice has several forms of comfort options available in the form of sedation dentistry.
For a pleasurable and comfortable dental visit, contact your dentist in Elgin, Dr. David Rice today. Simply give us a call using the number above or fill out the form on this page. We serve patients in the Elgin and St Charles, IL area and throughout Chicagoland.