Preventative Dentistry in Elgin, IL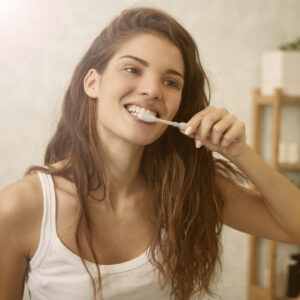 Our "teeth cleanings" are so much more than JUST a cleaning…
Think back to when you were a child. Can you remember hearing mom or dad remind you to brush your teeth? Can you remember how or if they taught you?
We realize it may sound insulting to some but we want to TEACH you, as an adult, how to not only brush your teeth, but also to educate you on tricks, tools and tips to do the job as effectively as possible.
Most people think they know how to brush their teeth, but have you ever heard the saying "You don't know what you don't know"?
Would you add a trick or two to your oral hygiene regimen if it meant spending less time (and money) in the actual dental chair?
Experience a World-Class Teeth Cleaning at David A. Rice DDS
Dr. Rice is serious about prevention. Our team has seen, both personally and professionally, how medically treating issues with the best tools can often keep patients from needing surgical treatment. Our office is trained and certified to use the scientifically proven best equipment for teeth cleaning; EMS AirFLow® technology.
EMS Dental's AIRFLOW® Prophylaxis Master unit allows us to administer Guided Biofilm Therapy. Guided Biofilm Therapy (GBT) is a modern approach to dental biofilm management and oral hygiene. It is a comprehensive method that involves the systematic removal of dental plaque, stains, and calculus (tartar) from the teeth and gums. GBT is designed to improve oral health and prevent oral diseases such as tooth decay and periodontal (gum) disease.
The bottom line is that our practice is on the cutting edge when it comes to dental cleanings. You won't find a more thorough and effective approach to teeth cleaning.
Beyond Dental Cleanings: Education, Tools, and Techniques
Not only does David A. Rice DDS set the standard for preventative dentistry via deep dental cleaning treatment, we also emphasize patient education. Below are a couple of resources we encourage patients to read should they want to learn more about dental decay, why some people are more susceptible to it, and what to do about it:
Providing you with the right products and a personal regimen with techniques tailored to work for YOU will all be a part of your dental "cleaning" visit with us. We want to know what brush you use, what paste you use, your brushing habits, and anything that will help lead you to a healthier mouth; the gateway to your overall health.
Dr. Rice encourages everyone to use a Sonicare electric toothbrush. He even provides patients with a brand new diamond head brush at every recall visit free of charge.
Your Preventative Dental Exam
Many health issues affect your teeth and gums. We medically screen our patients during our initial examination to see what conditions you may have or be prone to. Your overall health, medications, age and family history are imperative for us to know in order to help treat you the best way we know how. Conditions that are important for us to be aware of include diabetes, heart disease and stroke, head and neck cancer, changes in women's hormones during pregnancy and peri-menopause, autoimmune diseases and more.
Experience The David A. Rice DDS Difference – Schedule a Teeth Cleaning in Elgin, IL
David A. Rice DDS uses a different approach to dentistry than your average dental clinic because we are just that: different.
If you want to ensure you're getting the most thorough preventative care possible, give us a call, text, or email today!