Skilled Oral Surgeon in Elgin, IL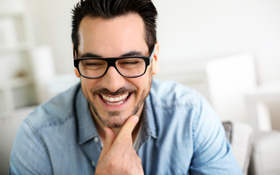 Elgin dentist Dr. David Rice is unique in his approach to serving his patients. He wants to be a partner in their oral health—not merely a health provider. This is one of the reasons he continues to rigorously study from and with the leaders in dentistry and oral health.
Dr. Rice is a recognized mentor by the Center for Advanced Dental Learning, an achievement awarded to fewer than 120 dentists worldwide. He is also a Mentor (CI) at the prestigious Kois Center (Seattle, WA), a world-renowned post graduate training institute. He has achieved the highest level, accomplished by fewer than 25 dentists worldwide.
His patients benefit in many ways: oral surgery is just one area where these benefits shine through.
Providing You With Comfortable, Familiar Care From Start To Finish
Dentists must have specialized training to perform certain procedures that go beyond the typical education they receive.
Since Dr. Rice can perform oral surgery in addition to general, cosmetic and restorative dentistry in his Elgin office, patients get continuity of care at our office. From diagnosis to surgery to beautiful restorations where needed—Dr. Rice is with you every step of the way.
By using his services you save time, and you don't have to wait after your diagnosis for another specialist who can perform the procedure.
You also have the comfort of knowing that we are aware of the challenges that you experience; you don't have a new, unfamiliar provider handling them on the day of your surgery.
Not only do patients come from nearby cities like Elgin, St. Charles, and Bartlett, IL, but they also come to Dr. Rice from long distances to benefit from his skill and expertise!
Oral Surgery Procedures We Are Proud to Offer
Our practice is pleased to offer a variety of solutions for whatever you might be experiencing.
Dr. Rice performs the following oral surgery procedures:
Accelerated Healing and Recovery
We understand that comfort is one of your greatest priorities when choosing a dentist. Dr. Rice uses tools and techniques to protect you against bacterial growth and to help you heal more quickly and efficiently after your oral surgery.
One of these techniques is to use your own plasma to introduce additional growth factors during the procedure that will minimize pain and quicken the healing process.
Untreated teeth or gum issues have the potential to cause serious harm to your overall physical health. We are dedicated to giving your mouth careful attention during our procedures so that you can live a happy, healthy life.
Sit Back, Relax, We've Got This!
It's understandable that the thought of having mouth surgery can make you feel uncomfortable and anxious. If you are one of the many people that experience fear at the thought of going to a dentist, you are not alone. Our primary goal during treatment is to set your mind at ease and address your concerns.
Dr. Rice wants you to be able to relax, and understand the procedures that we perform. We consider you a health partner, and we value your questions. We want you to feel like you have a thorough understanding of the changes that we are making to your mouth at every step along the way.
We invite you to ask any questions that you have, and we promise to give them the care and dignity they deserve.
Contact Dr. Rice for a Skilled Dentist and Oral Surgeon
Call Dr. Rice today to make an appointment for an oral surgery consultation. It may be the best thing you do today!
For those that have dental anxiety or a fear of the dentist, make sure to ask about how sedation dentistry can improve your experience with us!
Related Content