All-On-Four® Dental Implants in Elgin, IL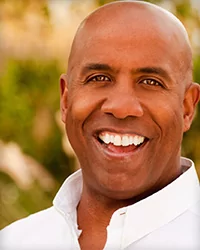 A renowned specialist in restorative dentistry, Dr. Rice can quickly improve your smile utilizing a wide variety of advanced techniques. Very popular among many of his patients is the All on 4® procedure, which offers same-day dentures for convenient and comfortable results. These permanent dentures have many tremendous benefits compared to traditional dentures, and can greatly improve patients' oral health over the long term.
What Is The All On Four Procedure?
Also known as same day dentures, the all on 4 procedure is a method in which Dr. Rice attaches permanent dentures or same day dentures to four dental implants. The dental implants are placed in your gum where your damaged tooth root would be, acting as an anchor for your new all on 4 dentures. This all on four procedure requires someone like Dr. Rice with the experience and knowledge to determine if this is the right restoration choice.
---
Alex's Story- All On X Implant Supported Denture on Top Arch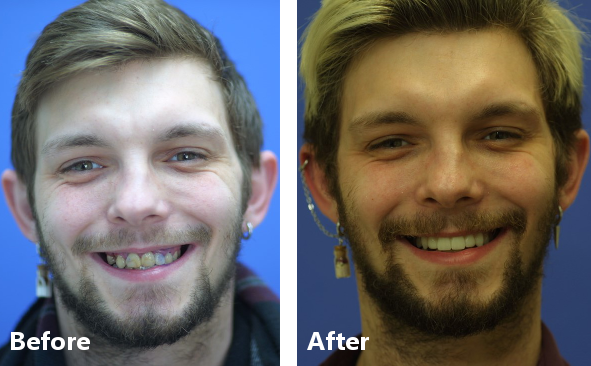 "I have basically lived in various dental offices my entire life and have always had horrible luck with my teeth. But Dr. Rice and his team not only make things comfortable but they genuinely care about their patients. After a difficult journey to getting an All on 4 (at the age of 26 mind you) the staff was cheering and tearing up with me as I was able to smile once again.

Through the entire process they were nothing but kind and honest about what needed to be done, the risks, and even just they're general practice of dental work has been the best I've experienced in my MANY years of needing dental work. I no longer fear going to the dentist, I don't even get anxious anymore and that is due to the team at Dr. Rice's practice. I truly cannot say enough nice things about the people who work here and the work that they do."
Alex A., All-On-4® Patient
---
What are the Benefits Of All On 4 Implant Dentures?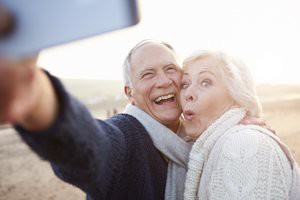 A Permanent Dentures Solution | Unlike traditional removable dentures, your new all on 4 same day dentures will remain stationary. You never need to worry about discomfort or unexpected shifting. This means being confident while speaking to friends and family and avoiding embarrassing situations.
A Stunning New Smile With Same Day Dentures | All on 4 same day dentures are permanent dentures. They are made to look exactly like natural teeth for patients, and can be an immediate makeover for damaged or decayed teeth. Not only will you get a gorgeous new smile, but more importantly, a future of long term oral health.
Very Convenient With All On Four | The all on four procedure is an extremely convenient way to restore your smile, and gives you the flexibility to eat all the foods you love. No more difficulty chewing like you experience with traditional dentures. With permanent dentures there's no pain, no swelling, and no discomfort.

All-on-4® Implant Dentures for as low as $4175/month with 0% interest!
Call 847-741-2353 for details and for a consultation!
Call Us: 847-741-2353
Accelerated Healing and Recovery
Not only are we able to quickly give you a beautiful, functioning smile with All-On-Four®, we are also able to ensure your dental implant healing and recovery goes quickly using PRGF™-Endoret™ technology. PRGF™-Endoret™ utilizes a platelet concentrate from a patient's own blood plasma to ensure a speedy recovery following dental implants surgery. We strive to get you back to your daily life as soon as possible!
Making Implant Dentures Available for Everyone with the All On Four Payment Plan
All-On-Four is an investment in your oral health that will pay dividends in your quality of life and will likely save you more money in the long run than if you opt for patchwork, ineffective tooth replacement solutions.
At David Rice DDS, one of our goals is making the cost of high-quality dentistry as attainable as possible for all patients. To accomplish this we offer several payment options, including our own in-office payment plan:
In-Office Payment Plans (for 3-6 months) with 0% Interest
Signed financial agreement will be made within the guidelines of the Uniform Consumer Credit Code.
Dental Credit Application MUST be approved.
One-fourth payment is due at first treatment appointment. Additional payments will be divided between 3-6 months.
Credit or Debit card will be kept on file and charged automatically on date determined on financial agreement.
With our payment plan, patients can have All-on-4® Implant Dentures for as low as $4175/month with 0% interest! We encourage patients interested in all on four denture implant financing to reach out to us to discuss our dental payment plan in further detail. To learn more about our financing and insurance policies please click the link below:
Learn More About Dental Financing
Contact Us Today!
Contact our office in the Elgin, St Charles IL, and Bartlett IL area to set up a consultation and find out how the all on four permanent dentures procedure can quickly restore your oral health and give you a stunning new smile! For those that have dental anxiety or a fear of the dentist, make sure to ask about how sedation dentistry can improve your experience with us!