Quality Dental Implant Dentures in Elgin, IL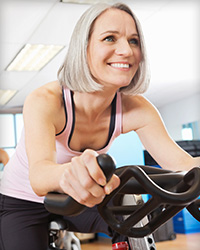 One of the very first things people notice about you is your smile, and if you have damaged or decayed teeth it could have a negative effect on how others perceive you. SynCone removable dentures are one of many advanced implant dentistry techniques that can give you back a winning smile and quickly restore your dental health.
What Are SynCone Removable Dentures?
Now patients can finally have the best of both worlds when it comes to comfortable natural looking dental implant dentures. If you're worried about the problems normally associated with traditional dentures, like slipping and sliding, SynCone implant supported dentures, also known as "snap on dentures", could be the perfect solution. Used in conjunction with dental implants, SynCone removable dentures are fixed securely to your gum line, but are also able to be removed at your convenience.
Schedule an Implant Denture Consultation Now!
Benefits Of SynCone Snap On Dentures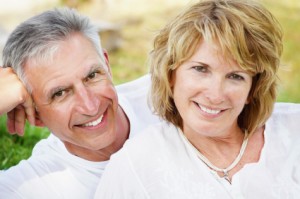 Elgin dentist Dr. David Rice specializes in advanced restoration techniques such as dental implant dentures, dentures with implants or removable dentures. Removable dentures give the best benefits of both traditional dentures and dentures with implants including:
Stability and Functionality | The SynCone system works much like dentures with implants, securing your dentures to avoid embarrassing problems often associated with traditional dentures. You can feel comfortable and confident while talking with others with dental implant dentures or removable dentures and never need to worry about them falling out. They also allow you to enjoy all the foods you love; chewing is just as easy as it would be with your real teeth.
Convenience | Because these dentures with implants are also removable dentures, you can take them out whenever you wish for convenient cleaning.
Natural Appearance | SynCone removable dentures and dental implant dentures are made to look like beautiful, natural teeth, and will drastically enhance the smiles of our patients.
Improved Oral Health | An excellent solution for cracked or missing teeth, removable dentures will recreate your smile and promote overall oral health.
Get Back to Your Daily Activities Faster
Because SynCone utilizes dental implants, there is a recovery period involved with this procedure. To help ensure your recovery goes as quickly as possible Dr. Rice uses cutting edge PRGF™-Endoret™ technology. This technology uses a platelet concentrate from a patient's own blood plasma to speed healing times by up to 40%.
Schedule an Implant Denture Consultation in Elgin!
Contact our St Charles IL, Bartlett IL and Elgin office today to find out more information about SynCone removable implant dentures and see how they can rebuild your smile!
For those that have dental anxiety or a fear of the dentist, make sure to ask about how sedation dentistry can improve your experience with us!