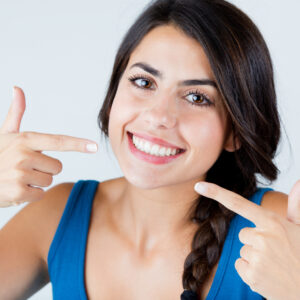 Porcelain veneers from David Rice DDS in Elgin are a versatile cosmetic dentistry treatment that can improve any smile.
Veneers are thin shells of medical-grade ceramic that are attached to the front of your teeth. Veneers are custom-fitted for each tooth. Once they are in place, your smile will be as near to perfect as possible!
With porcelain veneers, you can:
Cover chips and cracks in teeth. Chips and cracks can diminish any smile. Veneers can cover them with a completely natural appearance.
Cover gaps. If there are little gaps between any of your front teeth, veneers are in ideal solution.
Restore worn enamel. Tooth enamel can wear away, and unfortunately will not replace itself. Once a veneer is bonded to the tooth it becomes a new protective layer.
Enjoy increased confidence. Nothing beats a perfect smile to boost your self-esteem. As a bonus, veneers are low-maintenance and stain-resistant. You'll still need to brush and floss, though!
Porcelain veneers from David Rice DDS in Elgin can give you a fabulous new smile. We've put them on people from Bartlet, South Elgin, and Wayne, who also come to us for dental implants. Schedule an appointment with us today!
Contact David A. Rice, DDS:
Location (Tap to open in Google Maps):