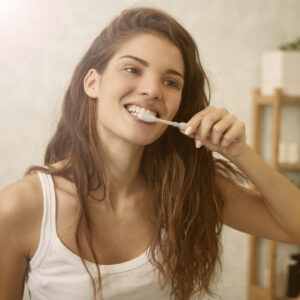 You may not realize it, but the secret to a better smile is simple. It's all about good oral hygiene. Taking care of your teeth and gums is the best way to protect against gum disease as well as damaged or lost teeth.
However, as your Elgin cosmetic dentist can tell you good oral hygiene takes time and effort as well as the right techniques and tools.
The Basics are Still Extremely Important
Dr. David Rice, your local Elgin dentist, suggests sticking to the basics when it comes to good oral hygiene. Many people don't take the time to do it right.
Statistics show that only about 50 percent of Americans floss on a daily basis. It's important to floss at least once every day. Additionally, brushing your teeth for at least two minutes, two to three times each day, with the right toothpaste may strengthen your tooth enamel, according to the American Dental Association.
However, keep in mind you can get too much of a good thing. Not only can too much brushing wear down tooth enamel and damage gums, but brushing too aggressively may damage teeth and erode the gum line. Instead, hold your brush at a 45-degree angle against the gum line and use gentle, circular motions. Also, don't forget the tops of your teeth.
The only way to control the damage done by the bacteria in your mouth is to eliminate it. Your Elgin cosmetic dentist urges you to brush and floss wisely using the proper tools.
Choose and Use the Right Toothbrush and Floss
Dr. Rice encourages you to consider the toothbrush you purchase carefully. Make sure the brush fits properly in your mouth – without straining – and that the bristles don't hurt your gums. The American Dental Association recommends using a soft brush. Look for the ADA Seal of Acceptance.
Experts suggest that manual toothbrushes are just as effective as powered toothbrushes. It's really all about how you brush. However, a powered toothbrush – electric or battery operated – can make the job a bit easier and even more fun.
As for flossing, your Elgin dentist Dr. Rice says it doesn't matter if you do it before or after you brush, as long as you do it at least once a day. The purpose is to remove the plaque that builds up between teeth. Although it's important to be gentle so as not to damage your gums, your teeth are more resilient. Be sure to floss firmly against each tooth.
If you're unsure about the proper flossing technique or the best floss to use, talk to your Elgin family dentist, Dr. David Rice. He can show you how flossing and brushing properly are the secret to a better smile.