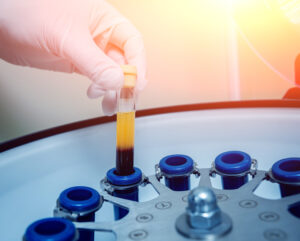 At David Rice DDS in Elgin IL, we know how stressful the idea of invasive dental treatment can be. During the procedure, we can numb your pain with local anesthetics and a host of other sedation options. But what about when you go home and the medicine wears off? You're often left to deal with a long healing period where you're in discomfort and soreness.
In order to fix this, our innovative dental team has researched and instituted platelet rich plasma therapy as one of our cutting-edge dentistry options. Though it sounds like magic, this minimally invasive procedure can give your body the tools it needs to heal faster!
How Does It Work?
Platelet rich plasma therapy, also known as platelet rich fibrin treatment, offers accelerated healing to any patient dealing with the slight, but inevitable oral trauma that results from in-depth dental procedures. The steps are simple:
We take a small blood sample so we can analyze its properties under the supervision of our technicians.
Then, we put the blood in a centrifuge that separates the plasma inside it.
We reinsert the plasma into the affected area through a small injection.
This plasma stimulates and boosts the growth of reparative cells that your own body already produces.
The tissue heals faster and more completely than ever before.
If this sounds too good to be true, visit David Rice DDS in Elgin IL and ask us about our accelerated healing options. We specialize in using the tools your body already has to promote healing and wellness. Patients from Bartlet, South Elgin, and Wayne come to us for restorative and cosmetic dentistry. Contact us today!
Contact David A. Rice, DDS:
Location (Tap to open in Google Maps):