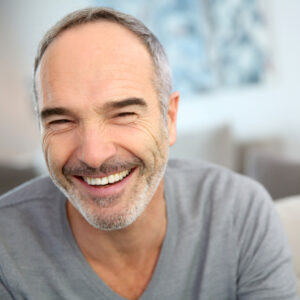 More than five million Americans have dentures made every year, in order to replace missing natural teeth. More and more of them are choosing implant-supported dentures, like those available at David Rice DDS in Elgin.
Implant-supported dentures look much like ordinary dentures, but there is a big difference. Where ordinary dentures are held in place by a special adhesive, implant-supported dentures are held in place by titanium posts (the implant) that are placed in the jaw.
It's the implant that makes them so superior to ordinary dentures. Implants are titanium posts that have grown together with the bone to become a solid foundation for the artificial teeth. They do not slip like ordinary dentures do, and provide near-normal biting and chewing ability.
Because they have become a part of the bone, dental implants act as artificial tooth roots. They prevent the loss of bone mass that is common when a tooth root is missing. They keep the bone healthy and prevent the sagging appearance common in people with ordinary dentures.
At David Rice DDS in Elgin we offer All-on-4 implant dentures and have placed them in patients from Bartlet, South Elgin, and Wayne. We also offer general and family dentistry. Schedule an appointment today!
Contact David A. Rice, DDS:
Location (Tap to open in Google Maps):