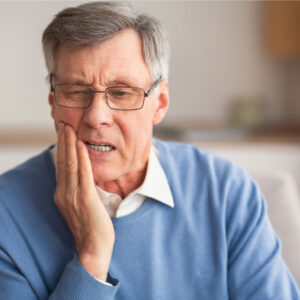 The pain from TMJ disorder can be excruciating and make life difficult. We offer effective treatment at David Rice DDS in Elgin.
Patients often wonder why they have the condition. Unfortunately, the reasons can be hard to pin down. There is no single cause for TMJ disorder, which is pain in the temporomandibular joint.
Arthritis is a common cause. So is teeth grinding or clenching. Trauma, like injury from an automobile accident, can also result in TMJ disorder.
Treatment Is Necessary
No matter the cause, most TMJ cases have one thing in common: it is a chronic, degenerative condition that must be treated. It is not likely that it will get better on its own.
Some of the common symptoms of TMJ disorder are:
Headaches
Pain or tenderness of the ear, jaw, jaw joints and facial muscles
Pain, and/or a locking sensation when opening the jaw
Pain with chewing
Clicking or popping noises when opening the jaw
Most cases of TMJ disorder can be successfully treated with non-invasive methods. These include oral appliance therapy, orthodontics, and relaxation techniques.
If you or someone close to you shows signs of TMJ disorder, please call David Rice DDS in Elgin to schedule an appointment. We've helped people throughout Bartlet, South Elgin, and Wayne, who also come to us for complete cosmetic dentistry. Call today!
Contact David A. Rice, DDS:
Location (Tap to open in Google Maps):