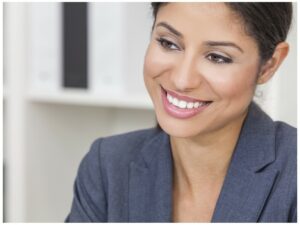 If you have never liked the appearance of your smile, we have good news! With cosmetic dentistry from David Rice DDS in Elgin you can improve it.
There is no reason why you should go through life being unhappy with the way your teeth look. Cosmetic dentistry is a range of dental procedures that can transform your smile. And that, in turn, can give your self-confidence a real shot in the arm.
Cosmetic dentistry refers to any of the following:
Teeth whitening. Who wouldn't like a brighter smile? Teeth whitening is a quick and easy way to make the color of your teeth lighter and more pleasing. Professional whitening is more effective than any available over-the-counter product.
Porcelain veneers. Thin shells of medical-grade ceramic are custom-made to fit over the front of your teeth. They can mask chips, cracks, or gaps between teeth. They're even good for strengthening teeth with worn enamel.
Dental implants. While not cosmetic, strictly speaking, dental implants are lifelike replacements for missing teeth that look and function like natural teeth.
Any one of these procedures can improve your smile. Put two more or more of them together and you have a complete smile makeover!
Cosmetic dentistry from David Rice DDS in Elgin can give a big boost to your self-esteem. We've improved the smiles of people from Bartlet, South Elgin, and Wayne, who also some to our practice for general and family dentistry. Schedule an appointment with us today!
Contact David A. Rice, DDS:
Location (Tap to open in Google Maps):